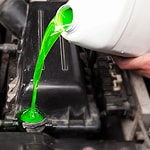 If you're worried about your vehicle leaking fluid, then you're having the correct reaction. Leaking fluid can be a sign that you have an equipment problem with your car. Different fluids mean different things, so let's talk about which ones you're most likely to see.
If your car is leaking a brightly-colored fluid that's orange or green, this is probably antifreeze. If it happens more than once, then you should have your car looked at. Another not-so-serious leak is fuel. While it might sound scary, leaking fuel usually just impacts your wallet more than anything else. Obviously, you'll still need to have it fixed.
A more serious leak that's pretty common is motor oil. When your car leaks oil while parked, it's usually because you have an older vehicle or one with a lot of miles on it. Driving a car that's leaking oil is a no-go, so have it towed and bring it to our service center at Cox Auto Sales in Wilmington, DE ASAP.