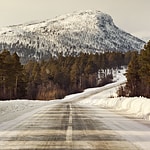 A winter survival kit is always a good idea for your vehicle during the cold months in Newark, DE. At Cox Auto Group we are sometimes asked what is the item that should always be included in your kit. The answer is not what you might think.
We would trade a lot of items for a fully-charged mobile phone that can be used to call for help. There is no guarantee that you will have service where you break down. Jumper cables are good, but if no traffic is passing by to give you a boost the cables are worthless. What about blankets and water? Those are excellent and don't skip them. A flashlight is a must, too, but it is not the best thing.
Always include a healthy dose of common sense in your winter survival kit. That means planning your routes, letting people know those routes, and leaving in plenty of time to get to your destination. There is no tool more important than smart planning.