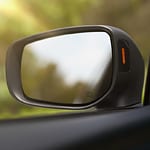 When riding in someone's car, a passenger may hear a beep and notice that an image illuminates in the driver's side-view mirror. That is one way a blind-spot monitor could work. The technology uses audio, visual, and even touch-based warnings about drivers, cyclists, and pedestrians who may be outside a driver's range of vision.
Blind spots are usually to a vehicle's side or the rear. Changing lanes sometimes results in accidents when the driver does not see anyone in a blind spot. Such accidents could be fatal ones, and collisions could occur even when the driver looks at the road both over the shoulder and in a mirror.
Blind-spot monitors represent the advanced safety technology found in numerous modern cars. Wilmington, DE car shoppers may wish to look closer at the tech a particular vehicle features.
Cox Auto Group has many new models available, and the vehicles boast new tech benefits. Such benefits include safety features.