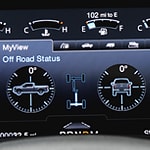 Ford is known for their incredible innovations and cutting-edge technology. The Ford F-150 has long been one of the most popular trucks on the market, and now it's got some awesome new features! Here are a few of our favorites:
1) Adaptive Cruise Control - This is one of my favorite updates. You can set your speed with cruise control, but if you come up to a slower car, it will automatically slow down to match without any input from you! It also avoids other cars or obstacles in its way.
2) Lane Departure Warning System - This system alerts drivers when they drift out of their lane by vibrating the steering wheel or emitting an audible warning. It's been found to decrease accidents by up to 10%.
3) Dynamic Hitch Assist - Dynamic Hitch Assist helps you connect your trailer to your ball hitch. You won't have to get out of the vehicle and manually connect it, which can be a dangerous proposition in icy or wet weather.